The Subscriptions section is available for courses that are marked with the 'Paid' attribute. This section allows the user to subscribe for the current course using one of the offered payment processors: PayPal, 2CheckOut and so on.
To pass to this section, click the Subscriptions (

) icon in the top menu of the course.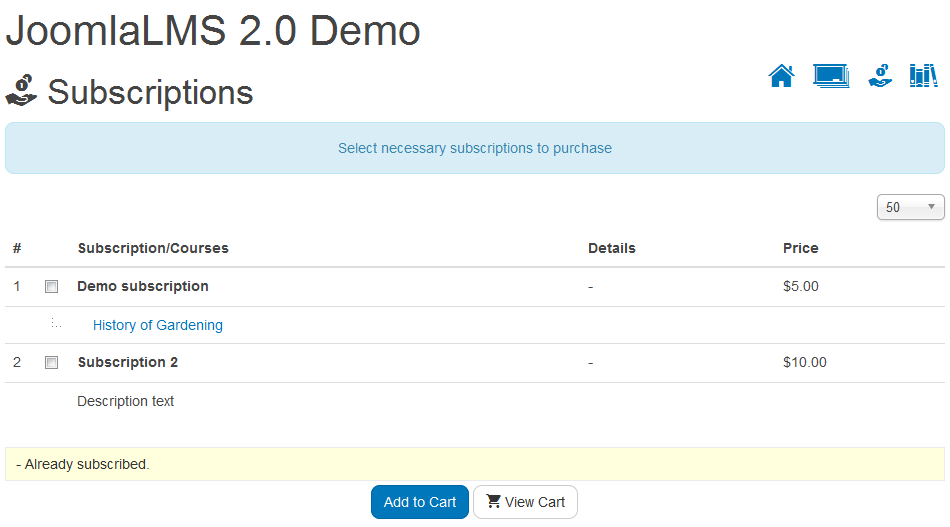 Fig. 'Subscriptions List'
The Subscriptions section displays a list of all available subscriptions which you can add to your cart. The View Cart option is also available.
If you want to buy a subscription, check the box near the title of the subscription you want, click on the Add to Cart button at the bottom of the page.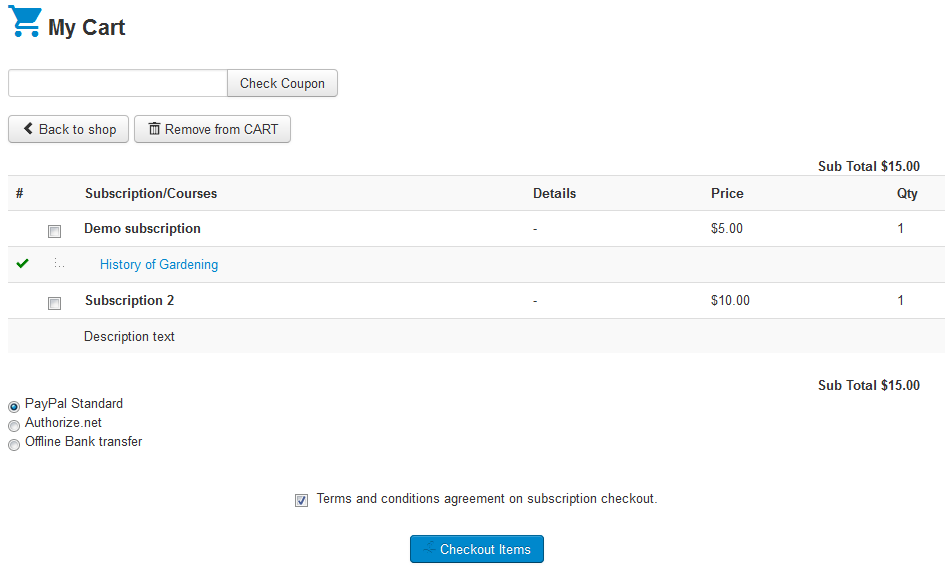 Fig. 'Buying Subscriptions'
To pay for the subscription/course:
| | |
| --- | --- |
| 1. | Select a necessary subscription. |
| | |
| --- | --- |
| 2. | Specify the number of subscriptions you want to buy in the Qty column text box of the corresponding subscription. |
| | |
| --- | --- |
| 3. | Define a payment processor. |
| | |
| --- | --- |
| 4. | If you have a discount coupon enter the code into the coupon field and click Check coupon. If the code is correct your discount will be applied to the total amount. |
| | |
| --- | --- |
| 5. | Check the box next to the agreement acceptance note if you accept the terms of the agreement. |
6.

Click the

Checkout Items

button at the bottom of the page.
To go back to the shop click on the Back to shop (

) button above the list of subscriptions in your cart.
To remove an item from the cart check the corresponding box and click on the Remove from Cart (

) button.
The View Cart (

) button allows you not only to view your subscriptions in the cart but also to pay for subscriptions in the cart.
After that you will be asked to perform your payment in the way common for the selected payment processor.
---
If you have any questions or suggestions regarding our help documentation, please post them to our ticket system.